Britannia is the eigth area, coming from Germania and does not lead to another area.
In this area the NPC are from level 40 to 50.
Britannia reward
Edit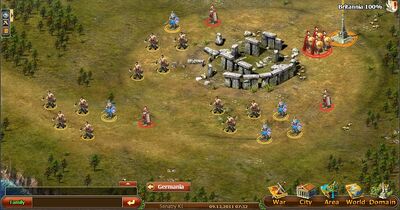 Thracian Ring
: Tac off 43; lvl 46.
Britannia NPC order
Edit
Scout I
Scout II
Scout III
Scout IV
Commius (chance of rare item drop: Oracle Sword (off 68; lvl 34))
Cunobelinus (NPC boss; units: Sapper; RS: None)
Vanguard I
Vanguard II
Vanguard III
Vanguard IV
Cassivellaunus (chance of rare item drop: Supervisor's Lance (off 73; lvl 38)
Cartimandua (NPC boss; units: Venom; RS: None)
Main Force I
Main Force II
Main Force III
Cadwallon
Togdumnus (chance of rare item drop: Coat of Snowfield (def 71; lvl 34)
Prasutagus (chance of rare item drop: Trojan Bow (off 80; lvl 38)
Boudica (NPC boss; units: Greek Fire; RS: None)
Britannic Legions (4 min[1], 8 max; 600 exploits; 8 enemies; chance of rare item drop: Roman Loricae (def 66; lvl 42; same as Egypt))
Britannia ingame introduction
Edit
The Northwest has been subdued. You became a bloodythirsty butcher in the eyes of the barbarians, most of which came from Britania. You regarded this as an invitation from the Britons as well as the right time to change their views, so pick a good day, cross the Channel, and land on Britain!
↑

These teammembers are only family or league members!
Ad blocker interference detected!
Wikia is a free-to-use site that makes money from advertising. We have a modified experience for viewers using ad blockers

Wikia is not accessible if you've made further modifications. Remove the custom ad blocker rule(s) and the page will load as expected.