Hispania is the sixth area, coming from Gaul but does not lead to another area.
In this area the NPC are from level 30 to 42.
Hispania reward
Edit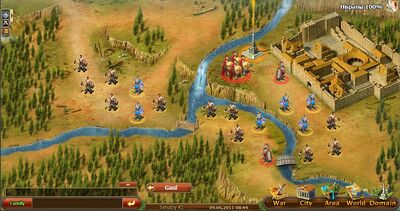 Armor of Highland
: def 61; lvl 25.
Hispania NPC order
Edit
Scout I
Scout II
Scout III
Scout IV
Niger
Lepidus
Vanguard I
Vanguard II
Vanguard II
Vanguard IV
Titius
Adosinda (units: Heavy Onagers; RS: None)
Main force I
Main force II
Main force III
Cleophon
Silo (chance of rare item drop: Garment of Lava: def 66; lvl 29)
Bridget (chance of rare item drop: Knife of Chaos: off 66; lvl 29)
Alfonso (NPC boss: units: Heavy Ballistas; RS: None)
Hispanic Legions ((3 min[1], 8 max; 500 exploits; 8 enemies; chance of rare item drop: Armor of Highland; def 61; lvl 25 (same as Irena at Gaul)) Odd thing: it is also the reward for conquering this map.
Hispania ingame introduction
Edit
Part of the Gauls did not yield to your suppression and their remnants escaped into Hispania. You chased them all the way through, but your soldiers were quite anxious about the strange surroundings. You found a voluntary Illyrian guide who was willing to lead you the way. However, when you were close to a palace, you found your army being surrounded by the enemies!
↑

These teammembers are only family or league members!
Ad blocker interference detected!
Wikia is a free-to-use site that makes money from advertising. We have a modified experience for viewers using ad blockers

Wikia is not accessible if you've made further modifications. Remove the custom ad blocker rule(s) and the page will load as expected.