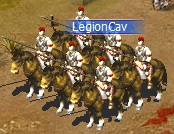 Super calvalry unit, good
critical hit
.
Targets single unit.
"Legionary Calvary is the heavy cavalry equipped with lance, wearing fine armor and carrying shield. They are skilled in strike and large-scaled fierce charge to overwhelm enemies."
Hero who uses this unit
Edit
Cornelius (
Scipii
family hero)
Philip ( Get in Rhodes)
Ad blocker interference detected!
Wikia is a free-to-use site that makes money from advertising. We have a modified experience for viewers using ad blockers

Wikia is not accessible if you've made further modifications. Remove the custom ad blocker rule(s) and the page will load as expected.